Baby Bedding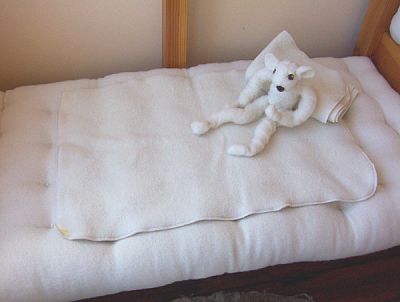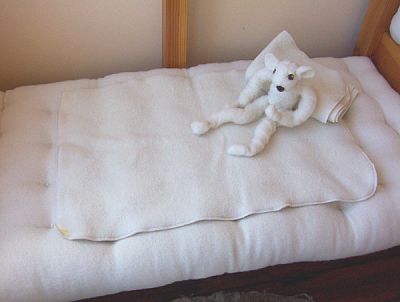 Baby Bedding
We make all baby bedding assuming standard crib dimensions of 28" x 52". Contact us for custom sizes.
All Wool Crib Mattress- 28" by 52" – 4 inches thick
This mattress is filled with pure, clean wool batting and encased in a natural wool textile. The mattress will last for many years of use and can be passed down to all the babies in the family.
Protect your All Wool Crib Mattress with a Crib Protector and organic sheeting. If soiled, the mattress can be cleaned with water and mild soap, but be sure that it is completely dry before using again.
The newborn baby (0 to 6 weeks) should sleep on a 'non-give' surface. Please consult your healthcare provider for specific information. Solid wood with a felted wool pad or two can be a good fit for this stage. Contact Shepherd's Dream for a consultation and custom order.
Crib Mattress Protector – 30" by 53" Keep your All Wool Crib Mattress safe with a washable woollen mattress protector
Wool Filled Baby Comforter – 36' by 42" – Be sure to protect with a comforter cover
Baby Comforter Cover – 36" by 42"- Ivory – Made with creamy soft organic cotton sateen using button closures. Use to protect baby comforter
Crib Fitted Sheet – 28" by 52" – organic cotton percale for standard size crib mattress
Puddle Pad 20" by 30" (approx) - Washable woollen blanket pad to protect the underlying mattress.
We make other custom baby items (bassinet felts, custom sized crib items) please contact us for a consultation or price quotes.